Pegadas was developed to support the planning of trails of educational activities in health perfomed by the use of serious games and virtual environments. By walking in these trails, students can perform activities that help their learning process. Then, they leave their "footprints" ("pegadas", in Portuguese).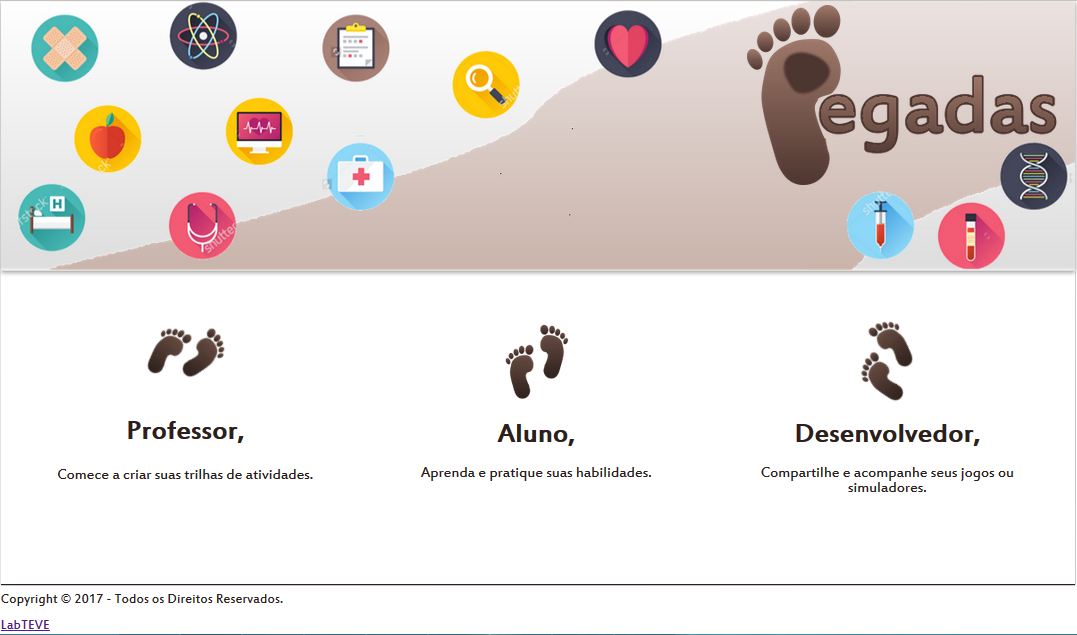 Pegadas interface.
The motivation behind the creation of this portal was the need of new databases able to aggregate serious games and virtual environments developed to support education in health. It is known that those applications can provide experiences in several situations in a safe mode. Then, the Pegadas allows that those applications can be used by students to develop their cognitive, affective and psychomotor skills.
The Footprints was developed based on a software architecture that determines the inclusion of an evaluation module to monitor sequences of activities.
The general architecture.
This architecture includes services that help the mediator to:


Integrate serious games and virtual environments in the planning of teaching actions;

Define assessment criteria;

Monitor students performance during activities period.
From this general architecture was specifyed an architecture named GOA, an specialization that included an evaluation module based on the learning objectives of Bloom's Taxonomy. Then, the portal Pegadas is based on GOA and allows evaluating students considering the cognitive, affective and psychomotor domains. Students'performance is scored from successful execution of each activity (application) defined by the mediator. Pegadas has 3 different profiles: mediator (professor or tutor), student and developer. The mediator is those that organize the sequences of activities (trials), defines the performance evaluation and publish the trials. The student can to use the applications, walk through the sequence of activities and can see their performance results. The developer is responsible by the applications classification according to the educational goal (based on Bloom's taxonomy) and their publication in the portal.

The GOA architecture.
Trial of activities in Pegadas.
Professors (or mediators) are the only kind of user allowed to create tests of activities and can monitor students accomplishments. Besides the acess to trials, students are free to explore and execute other applications available in the portal. However, only students under professor supervision will have acess to the trials.
Pegadas is free for use and is available only in Portuguese. All those interested in include new applications should acess the portal by the option "desenvolvedor" (developer)
Team
Thaíse Kelly de Lima Costa
Liliane dos Santos Machado
Ana Maria Gondim Valença
Ronei Marcos de Moraes
Marco Antonio Alba Winckler
Deynne de Andrade Silva

Return